XADO Revitalizants - A Unique Advanced Engine Treatment, Oil additives and fuel treatment
In addition to our specialist advanced engine oils, lubricants and greases, we offer a range of individual engine treatments, engine oil additives and fuel treatments. These come in easy to use blister packs which contain the same patented XADO Revitalizant that is in our in our atomic engine oils. These blister packs allow you to simply add the XADO Revitalizant to your existing engine oil. These is also an XADO gel fuel treatment, Xado treatment for manual and automatic transmission, gearboxes, reducers as well as a treatment for you hydraulic steering booster, engine cylinders and two stroke engines.
| | | |
| --- | --- | --- |
| | | |
| | Xado saved me from a £1500+ rebuild! I have an mr2 roadster, and the izzfe engine is known to have premature bore and ring failure (some engines) . at one point, my engine was consuming 1litre every 100miles. i ordered three packs, added two at once, let the car idle for 30mins, and took it for drive. Engine had already seemed better, but oil consumption was the same. slowly oil consumption got better.added the third pack after 200miles, and now, 700miles on, the car is excellent, no longer smokes at high revs and oil consumption is improving all the time, as well as fuel economy. This stuff is excellent, and i will recommend it to everyone - kieran D | |
These premium products will not only provide immediate benefits such as reduced fuel consumption; thereby saving fuel, reduced vibration, increased compression, reduced exhaust emissions, but more importantly will restore the internal working parts of any engine or industrial mechanism without an expensive and costly repair.
XADO - NEW "1 STAGE" Advanced Petrol, Diesel & LPG Engine treatments
We have recently launched our NEW 1 STAGE XADO Revitalizant engine treatment for Petrol, Diesel and LPG engines. "1 Stage" Engine treatment was developed as a universal, quick to use, single application for those who do not wish to use the popular 3 stage standard engine treatment. It is an advanced formula that will increase the compression in your cylinders, increase horsepower, reduce fuel consumption, exhaust emissions and will restore your vehicle to a state better than new.
| | | |
| --- | --- | --- |
| | | |
| | A great product and so easy to use. The instruction are easy to follow and the results are plane to see. Better acceleration reduced fuel consumption and a quieter running engine. I have already advised my nephew to use this in his car. - Simon Lowe | |
XADO - Independently tested and certified

These benefits have been independently tested and certified by TÜV - Technischer Uberwachungs-Verein, one of the worlds leading testing and product approval agency used by the likes of Mercedes, BMW and many other vehicle manufacturers.
XADO - Is not an oil additive
XADO is NOT an oil additive. Though we describe the XADO Gels as an additive XADO does NOT change the characteristics or viscosity of the oil in any way, unlike other oil additives and fuel treatment which do. However, we do use the oil to initially DELIVER XADO to the moving parts.




I was most impressed with this treatment, it was highly recommended by a family member of mine.

- Mr Briggs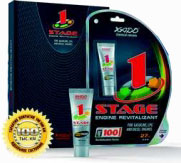 1 "Stage" Petrol, Diesel & LPG Engine Treatment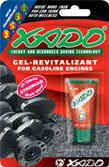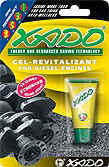 Diesel Engine Treatment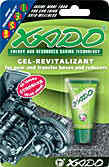 Gearbox Engine Treatment